Also called Suji aur Gur ka halwa, this halwa is bound to become a clear favourite as it requires only a handful of ingredients, it calls for jaggery which is rich in iron instead of sugar, it is ready in 20 minutes, and it can be made as Prasad for festivals like Diwali. Ingredients:- 1 cup of semolina (aka suji or rava) 1 cup jaggery ¾ cup ghee 2 tablespoons almond pieces 5-6 cardamom pods, crushed 1½ cup of water 1½ cup of milk Directions:- Sauté the almonds in 1 teaspoon of ghee until light golden. Set aside. Roast the semolina...
---
Badam katli, or badam barfi, is made of almonds and sugar. Here we bring you an easier and healthier version, replacing the ground almonds with almond flour and the sugar with coconut sugar. So this Diwali you can have your sweet and eat it too. Ingredients:- 1 cup almond flour, room temperature ½ cup coconut sugar ¼ cup water 1 teaspoon ghee cardamom saffron Directions:- Sieve the almond flour to remove any lump. Add coconut sugar and water to pan, mix well and bring to a rolling oil. Once boiling, reduce the heat, add the almond flour and mix well....
---
Sweet potato flour is a resistant starch, which means it is resistant to digestion and passes through the digestive system unchanged. It acts in a similar way to soluble fibre and can have many health benefits including improved insulin sensitivity, lower blood sugar levels, reduced appetite and better digestion. This sweet potato gulab jamun combines the benefits of resistant starch with the moreish flavours of Indian sweets. Did we mention it is naturally gluten free? Ingredients:- For the jamun: 1 cup sweet potato flour ¼ cup chestnuts 6 tablespoons almond milk ½ teaspoon baking powder or 1 tablespoon hot ghee Frying oil For the...
---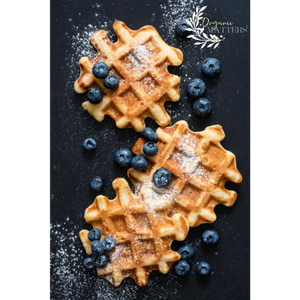 Naturally gluten-free and grain-free, these waffles are protein-packed, super filling and deliciously satisfying! Ingredients:- 1 cup almond flour 1 large egg* 1 tablespoon tapioca flour 1 tablespoon extra-virgin olive oil 2 tablespoons maple syrup 1/3 cup water 1 teaspoon baking powder 1/2 teaspoon vanilla extract 1/4 teaspoon salt Directions:- Pre-heat your waffle iron. Mix together all ingredients, making sure to break any lump. When the waffle iron is hot, spray it with oil, then pour 1/4 cup batter into the centre of the iron. Cook as per waffle iron instructions (toughly 5 to 7 minutes). Remove the waffle carefully and repeat with...
---
The perfect dressing to liven up your salads with a good dose of antioxidants with anti-inflammatory, anti-allergy and immune-boosting properties. Ingredients: ¼ cup black seed oil ¼ cup extra-virgin olive oil ¼ cup apple cider vinegar 2 tablespoons raw honey 2 tablespoons Dijon mustard 1 teaspoon garlic paste salt and pepper to taste Method: Whisk together ingredients until well-combined. Drizzle onto salads or grain-based sides, or use it as a dip for veggies. Store in an airtight container in the refrigerator.